What are the best SEO Strategies?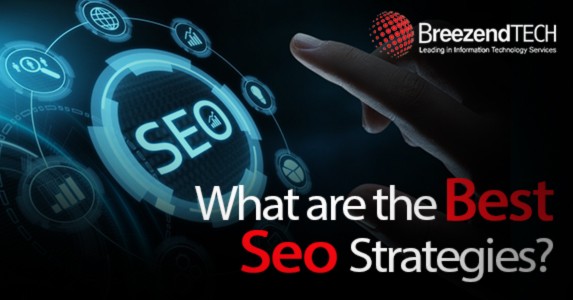 Google - a best friend, a genuine guide, and a learning partner. If these three characteristics seem to be your rare well-wishers in life then we have to look at how Google can make these pillars of strength work for us.
We all want relevant information while keeping in mind the competition of the digital world. All we want is to keep ourselves updated with organic information in whatever domain we've asked for. In terms of organic and relevant information, strategies to write, deliver and inform people about what they want to acknowledge themselves concerning their needs and targeted zones are never possible until Google enables us to know about SEO. IT services will never be complete without SEO. People want to learn SEO to make them experts in this fast-derived service.
SEO is the abbreviation of Search Engine Optimization. SEO is considered a digital marketing tool to promote a website or any kind of online content that can be helpful in digital marketing services with the help of SEO-oriented procedures, techniques, and conditions that must be followed for better ranking on Google search engine.
Search engine optimization supports the concept of organic ranking on the websites and for the online content. In the simplest way, SEO can be understood as an asset of optimization of the online content on Google search engine to make its visibility on top of the page when anyone searches for something.
Strategies make it accessible to build a solid base for SEO. By implementing the step-by-step guide towards the best SEO strategies you can definitely reach the goal of maximum organic traffic on your websites.
MESMERIZED ORGANIC CONTENT
Organic content refers to the relevant and appropriate answers to the queries asked on search engines. Organic content highlights the evolution of new discoveries happening worldwide. Current and well-written content is the foundation of the establishment of a culture that provokes authenticity and credibility. Changing trends and advancements in technology increase the opportunity for writers to write about new things that people are eager to know about.
SEO-friendly content is equal to organic content that contains keywords naturally. When you know how to write on a topic precisely, that is the only skill that leads you to perfect optimization results. You don't need to stuff keywords in your content to make it gain a strong position on search engines. Proper meta titles and descriptions are the keynotes the search engine accepts with your freshly established organic content that strengthen your ranking on the search engine. Commonly opt keywords for searching are easy to pick when you have a common sense of what kind of searches people can do to find or to gain knowledge about something.
KEYWORDS - A BLEND OF GOOD KNOWLEDGE
It's a wise saying that words are more powerful than swords. They can make you a saint or a sinner. Good vocabulary and fresh ideas of a genius mind settle down all the worries of effective keywords. Good keywords can make a big difference in successful content optimization. Websites that are optimized with common keywords plus high standard content are likely to be more prominent in ranking scale rather than websites having ordinary content.
Keywords and organic content, both perform very well together and show you the most favorable outcomes if managed properly. But the question is what comes first on the to-do list? Well, it's not easy to describe because most people suggest that research of relevant keywords is the first step to go for SEO. However, it's up to you which one you want to do first. In conclusion, we can say that if you have expertise in writing organic online content then your write-up will already have those words covering the specific topic. You don't have to worry, just write well and your content does the magic.
WEBSITE PAGE URLs - KEYWORDS PLANNER
If you want to go with the right keywords for your URLs, you must plan to collect the famous keywords among searchers in terms of their interests, updated trends, technology, and needs. There are various free tools available online for checking the high-rank keywords like Google AdWords Keyword Planner and Google Trends etc. Enter your keywords on these sites to get the info about how many ratings your keywords have been previously got in terms of search criteria.
URLs is the abbreviation of Uniform Resource Locator. It is known as the web address of any website that we enter into a browser to reach its web page. URLs are the indicator of your website's content. They are the bridge that builds the link between your content and the searcher. SEO-friendly URLs involve keywords, relevant information about the topic of website content that is simple, readable, and easily accessed by the searchers.
CATCHY PAGE TITLES
Your page title should be catchy and authentic. Authenticity is the key to grabbing the maximum audience towards liking your page content and recommending people to visit your website.
After attention-grabbing headlines and content headings, it is a plus point that carries your keywords naturally and makes your content stand out from the crowd. It is very important to build relatability between your content as you must be conscious about how a reader can consume their desired knowledge from your write-up and relate themselves with your writing and explaining skills. An expert writer should know how to make engaging and catchy material that proves his talent of delivery of content accurately.
REPHRASE YOUR WORDS TO PLACE KEYWORDS NATURALLY
Writing content and reviewing is a common thing but if you take review carefully you can surely get a chance to replace it with your keywords. Keywords have the power to get high ratings so why miss the chance to rephrase for better content? The answer is - it is a tricky skill that contains a strong command of vocabulary and expertise in writing and communication.
VERIFIED USER EXPERIENCE
User Experience abbreviated UX is very important for strong websites. However, without UX design services, SEO can't serve its purpose because it's all connected to a smooth website. It gives your user the feasible experience that will also increase your ratings because good appearance matters plus convenience shines bright with it.
For SEO, it's mandatory to do backlinking on the content of the UX designer's service. It is the only thing that proceeds the operations quickly with one click and opens the other page that will take your user to further information. If you are doing backlinking for the client's digital marketing of their services or products, a UX designer is an efficient performer because it will lead you to the best results for website functioning. For example, when you click on a link/hyperlink which is blue in color that indicates that this word has a link, it will open the web page in seconds. This is why UX designing is significant for SEO outcomes.