Is Cyberspace a safe place for data management?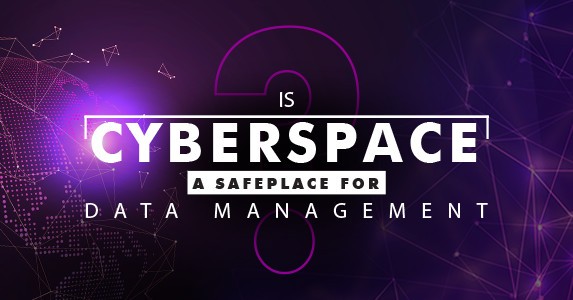 A widely spread digital technology is an infrastructure of global and local communications of corporations, government, and even in a personal capacity, that explores the world of interconnected networks that flourish the means of communication by providing digital space. This is an age of technology and digitized connected environment. If you lack by technical means you lack in the economy, education, or even in global dynamics.
But, relying on too much technology is safe, or is cyberspace safe for managing our data? With every new technical innovation, this question arises!
Reliance on digital platforms brings vulnerability as well. Dependency on the complexity of interconnected environments eases the other to do tasks but the safeguard is never promised. Confidentiality, security, cyber ethics, and privacy all are needed to be sterilize while entertaining the users of your digital platform, likewise, the user needs to be concerned enough or technically aware about the dos and don'ts of using cyberspace.
Strong Passwords
Easiest and weakest loophole to trace the information or details. Choose strong passwords, characters with numbers or symbols if they allow. Make sure you remember it but others don't. Harder passwords are difficult for cyberthieves to hack or to find out.
Antivirus Program Up To Date
Keep your system's anti-virus software updated so it removes any malware if your system gets contacted to any. But do not download it from unwanted sites.
Safe Browsing
Try safe browsing methods don't fall into traps that are easy to get your hands on and dangerous browsing in one of those. Be careful while browsing, avoid unnecessary clicks.
Safe Downloads 
Apps, programs, games or media files, docs, pdf anything could contain malware. Blind downloading could lead to data leakage or any other suspicious activity.
Secure Internet Connection
Using public wifi doesn't let you monitor the access, while a secured and personal one gives a safe internet connection to your system where your data is secure.
Limits to Info and Details
Be considerate while putting up your details online. Limited access to your personal data can protect your privacy.
Privacy
Be a private person, you don't need to share your details online with people on social networking sites unless asked by an authentic source.
Cyberspace And Data Management
Data integrity is really very important when it comes to cyberspace. Managing data with a security policy and calculated perceived risk must be honored within the sphere of cybersecurity. Designed confidentiality and full proof privacy, steps of prevention before the information reaches to the user is the best security a digital platform could give. This can be done by tools, strategies, security policies, security safeguards, guidelines, risk management appeals, actions, best practices, assurance, and technologies that can be used to protect the cyber environment, company, and user's data.